Last Summer in Paris (en français)
Last Summer, I went to Paris with my girlfriend, Joan. We went to Spain and Zurich as well but since I can't speak Spanish or German, today, I will only talk about Paris.
When we arrived, there was a huge strike. So the train from CDG airport to Paris was free! Good start, eh? During the strike, the trains arrived every twenty minutes and the metro stations were almost empty. It was very laid-back. The strike lasted so long that we thought it was normal. After all, it would be normal in Sydney, wouldn't it? But after a week, the strike stopped and we immediately discovered the real normality. Normally, the trains arrived every four minutes! During peak-hour (when everyone goes home at the same time), they arrive every minute! And, at one station, there were people who pushed or pulled the passengers who were too slow at the door of the train. If they didn't do that, it would be dangerous. And normally, you have to pay as well! During the strike, we had gotten used to not paying for the trains. Oh well. Too bad.
The first thing I saw on exiting the metro was the Luxembourg Garden in the middle of the Latin quarter. It's very well-known. It's magnificent. There are lots of trees, of course, and lawn everywhere. What I wasn't expecting was the hundreds of chairs. They are well appreciated, believe me! By the end of our holidays, we had spent a lot of time in the Luxembourg Garden to rest after long walks. There is also a big fountain where children rent tiny little boats. They push them with little sticks towards the centre of the fountain, and then, they run around the fountain to catch them again. It was very cute. I've read children's book in which the children did that but I've never seen it before.
Our first room in Paris was a garrett. That means a room just under the roof with a sloping ceiling. It's like an attic but it's a bedroom. It was bizarre. There was no plumbing except for a sink. There was a toilet in the corridor but there was no bath or shower. Not at all! We looked everywhere but found nothing. They had warned us when we arrived but I just thought that I had misunderstood what they had told us. So, naturally, we only stayed there for one night. The next morning, we found a much better room on boulevard Saint-Michel. But the garrett was cool. It had a pretty window and a beautiful view of rue Gay Lussac and some old Parisian apartment buildings. It was very romantic because poor artists of past centuries used to live in garrets just like this one. Nowadays, of course, the price is too high for poor artists. Even without a shower! I can assure you that we had lots of baths in the room we took next.
The most important reason for going to Paris, for us, was to have fun by eating all the French things that we had never eaten before. And we did it relentlessly. There were lots of things that we wanted to eat in Paris. And we were able to eat everything we wanted. I ate rabbit, duck confit, snails, frogs' legs, onion soup, all that. I even ate potted boar. For those that don't know what that is, it means male pigs that run around the forest, and then, you kill them, cook them, mash them up, and put them in a glass jar to sell to people. Ever since I read the adventures of Asterix when I was little, I have wanted to eat boar and, finally, I have. Super!
Joan adores cheeses. So she was well pleased when we discovered fromageries. That's a shop that only sells cheeses. We didn't even know that they existed. We could have guessed but we didn't think of it. We wanted to eat cheeses whose names we didn't know and we did that several times. We even ate roquefort which is a superb cheese that isn't legal in Australia because it isn't pasteurised and so you can catch tuberculosis by eating it. We ate the roquefort and the boar in the Tuileries Garden in front of the Louvre. It was a very good picnic.
Another thing that I really wanted to eat in Paris was crème brûlée. So, we went to Bertillon, a well-known ice cream maker on the isle of the city, behind Notre Dame. They say that Bertillon sells the best ice cream in the world. I tried the crème brûlée (with real vanilla) and Joan tried the ice cream. I don't know if it is the best in the world, but I do know that it was very, very, very, very, very delicious.
Our greatest sweet discovery was "chocolat chaud à l'ancienne." It's a hot chocolate but very dark and very rich. It's like the hot chocolate in Spain but much more refined. When chocolate arrived in Europe for the first time, it was impossible to make solid chocolate. The only way to try chocolate was in a cup. It was a beverage that you could buy from chocolatiers. The only café where we found it was called "le cercle" opposite the Luxembourg Garden.
As you know, Paris is full of tourist attractions. Most of them are above-ground, naturally, but some are subterranean. Like everyone else, we visited the Eiffel Tower, the Louvre Museum, the Orsay Museum, the George Pompidou Centre, the Champs Élysées, Notre Dame, Sacre Coeur, the Museum of the Middle Ages, all that. The attractions that are below-ground are less popular, I think. We visited the Memorial of the Martyrs of the Deportation, the sewer system and the Catacombs. The Memorial of the Martyrs of the Deportation reminds us that, during the Second World War, there were over 160,000 French people taken to the concentration camps. There were jews, homosexuals, criminals, the anti-social, the stateless, Jehovah's witnesses, gypsies and activists. Only three percent of them returned home. It's very moving. It's not really underground but it seemed like it to me. The sewer really is underground. It smells musty but it's very interesting. It's not as disgusting as you'd think. The catacombs are marvelous. It was amazing! I've never seen anything like it. There are corridors with walls are made of bone. From the floor to our heads, there are bones arranged very carefully, very respectfully, with crucifixes made of skulls surrounded by femurs. If you look over the bones, you see that the wall of bones is twenty feet thick. That stunned me. The number of bones is incomprehensible! The bones of six million people are there! It's like all the people who have lived and died in Paris since the beginning of time until about 1850. They exhumed all the bones from all the cemeteries of Paris to make space. The bones were placed in these quarries. The bones of each cemetery were placed together with a plaque on which they'd written the name of the cemetery and the year and month when that cemetery had been moved. The catacombs are enormous. There are 350 kilometres of tunnels but normally you can only see a small section. However, there are some intrepid people who have discovered ways to reach many other tunnels including those used by the Resistance during the Second World War. Unfortunately, that's prohibited.
The cemeteries of Paris are cool as well. The cemetery Père Lachaise most of all. There are so many celebrities buried there that they give you a map to find them! Many of the graves are beautiful. Oscar Wilde's is covered in lipstick kisses. There's also a beautiful poem inscribed there. I also saw Edith Piaf's grave. Jim Morrison's was very funny. It's the most visited grave in the world. It was encircled by young girls crying. None of them had been born when Jim Morrison died but they cried nonetheless. That made me laugh. There was also a guard just for Jim Morrison. He looked a little puzzled. That made me laugh too: a bodyguard for a dead guy? Bizarre, bizarre.
On our last day in Paris, Joan and I were exhausted. We had seen almost everything that we had wanted to see except the Marmottan Museum. I really wanted to see it because there are heaps of works by Monet there. So, we made a little effort and went there. To our surprise, it was very gentle because it was a little museum surrounded by parks and the woods. In the past, it was the house of an art historian who gave it to the state to make a museum. There's about a hundred Monet paintings and sketches. There's also a collection of illuminated manuscripts from the middle ages and some beautiful furniture. That's all! It's easy! Not like the Louvre! Downstairs, there's a large room with Monet works everywhere. I was transported. In my opinion, it's the most beautiful room in the world.
Like everyone on holiday, we brought alcohol when we returned home. All the alcohol that we bought was very French. I bought a very good bottle of cognac (Remy Martin). Joan bought a tiny little bottle of absinthe called "Absente" but it's not the real absinthe with wood alcohol and hallucinogenic wormwood. Maybe that's why it's called "Absente", because the wormwood is absent. In the past, it was the alcohol that drove many artists mad! Absinthe became illegal at the beginning of the twentieth century. Happily, these days, it's no longer so dangerous. Finally, we bought a bottle of violet liqueur. It's delicious. It has the colour of flowers. It smells like flowers. It tastes like flowers. It's unlike any other alcohol I know. Unfortunately, we've nearly finished it. We'll have to return to Paris to buy more.
---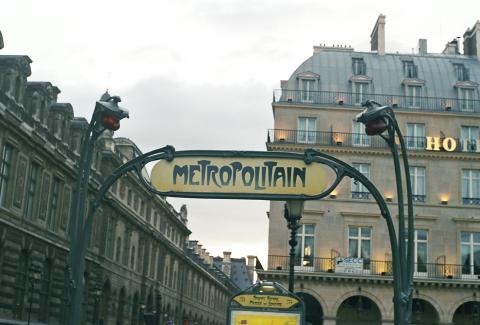 The entrace to the Métro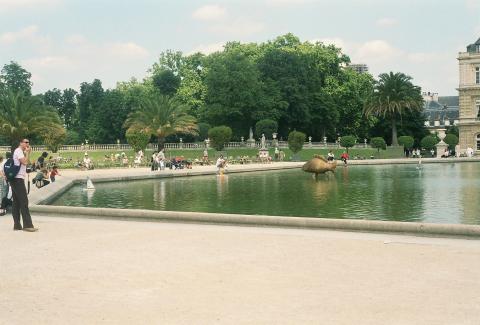 The Luxembourg Garden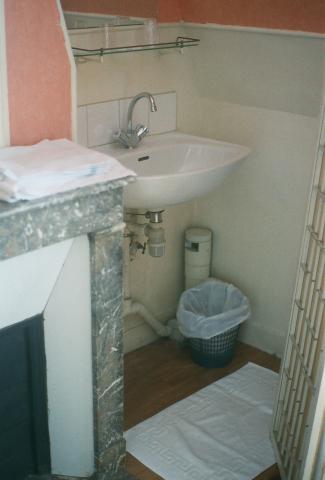 The garrett's plumbing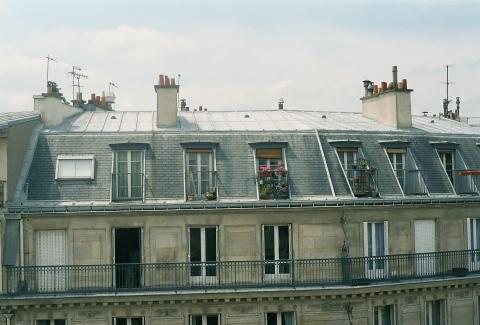 The view from the window onto the rue Gay Lussac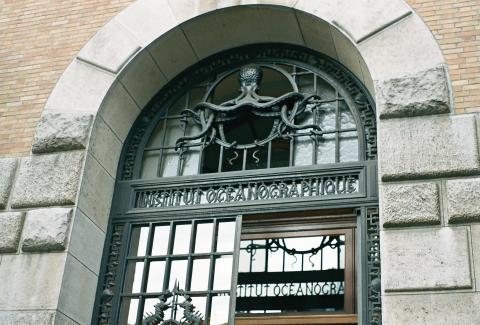 The Oceanographique Institute on the corner of the rue Gay Lussac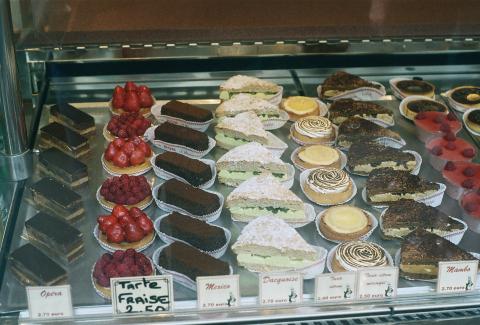 A patisserie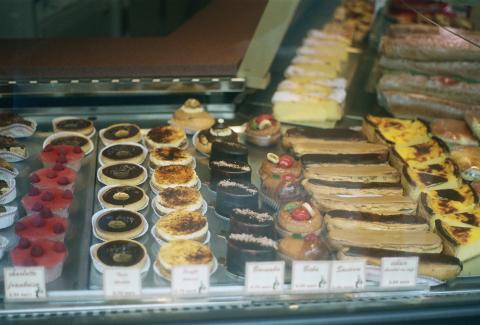 A patisserie





A patisserie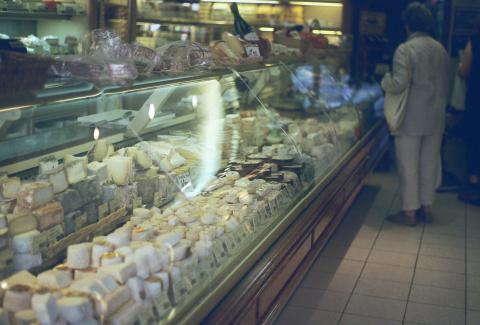 A fromagerie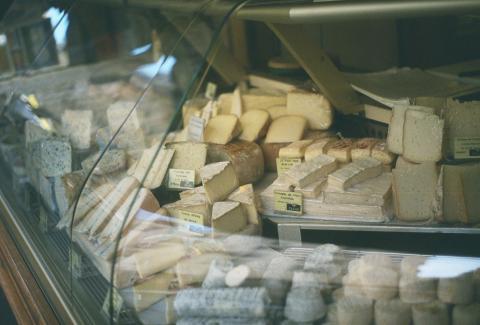 A fromagerie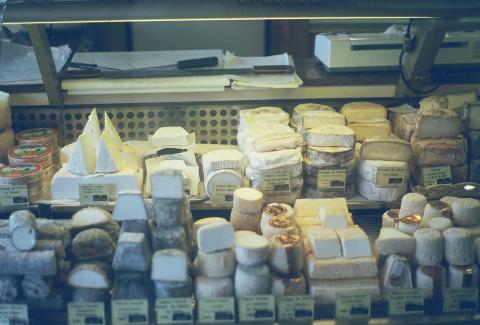 A fromagerie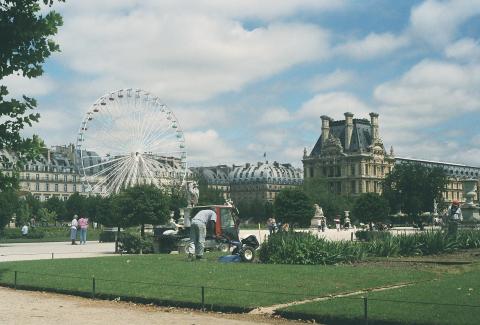 The Tuileries Garden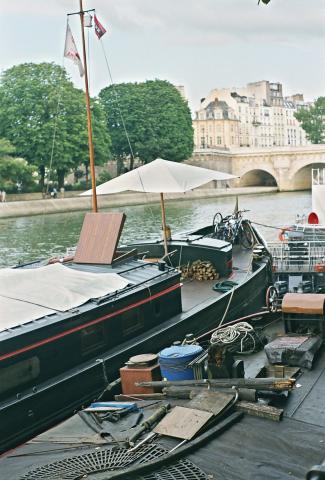 Boats on the Seine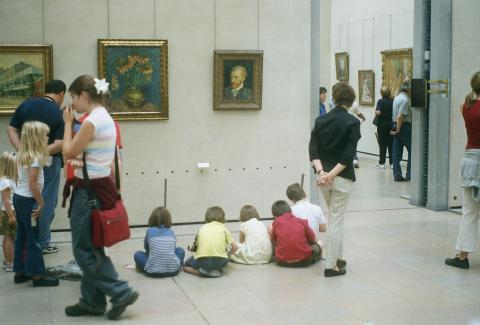 Children and their teacher in front of Van Gogh at the Musée d'Orsay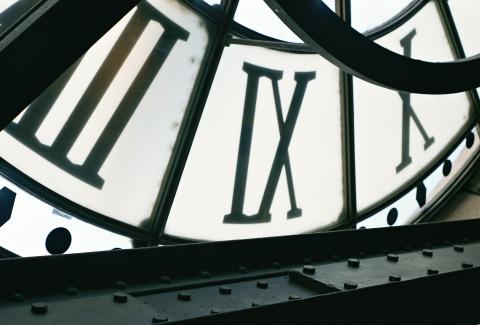 The clock at the Musée d'Orsay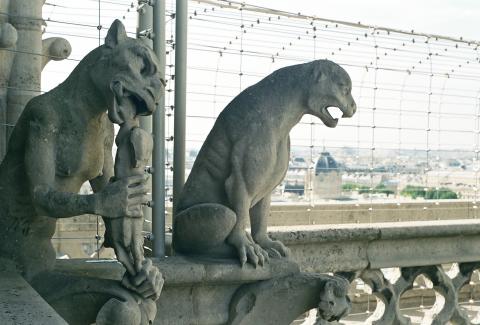 Some chimera from Notre Dame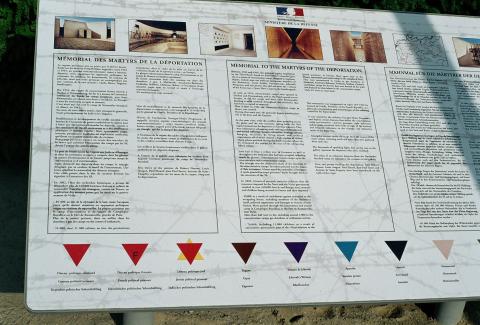 The Memorial of the Martyrs of the Deportation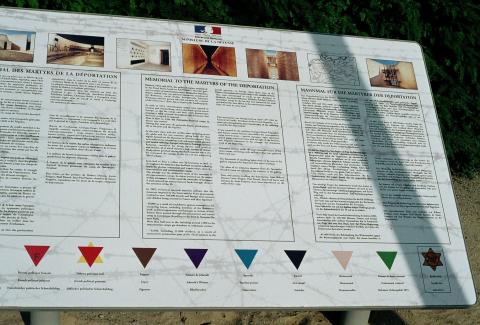 The Memorial of the Martyrs of the Deportation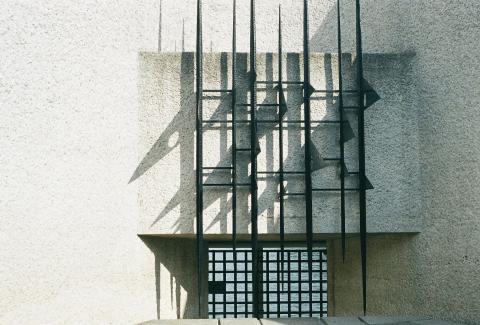 The Memorial of the Martyrs of the Deportation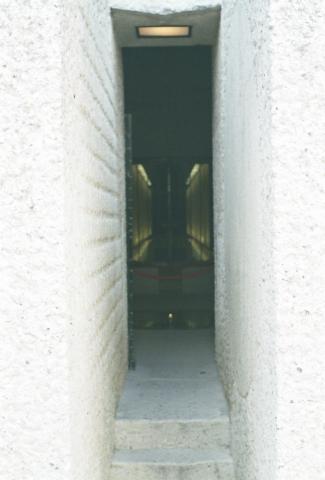 The Memorial of the Martyrs of the Deportation





The entrance to the Catacombs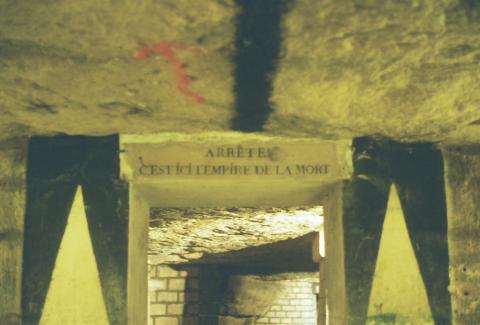 The real entrance to the Catacombs:
(Stop! Here is the Empire of Death)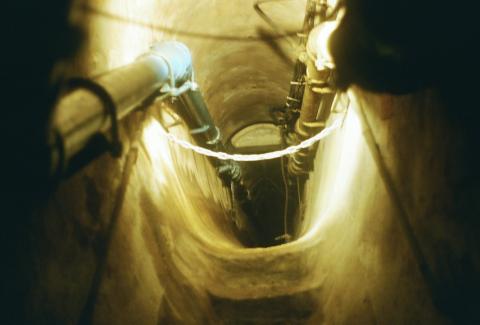 The sewers of Paris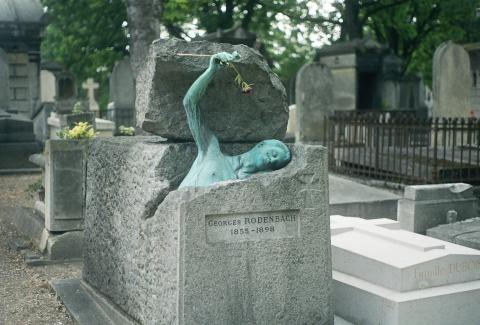 The grave of Georges Rodenbach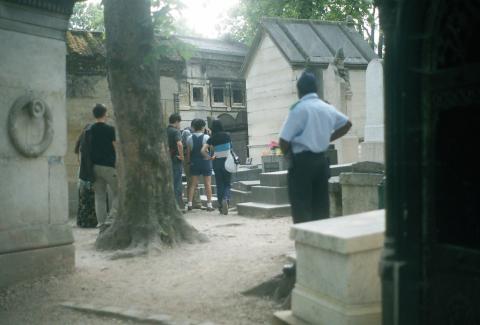 Jim Morrison and his bodyguard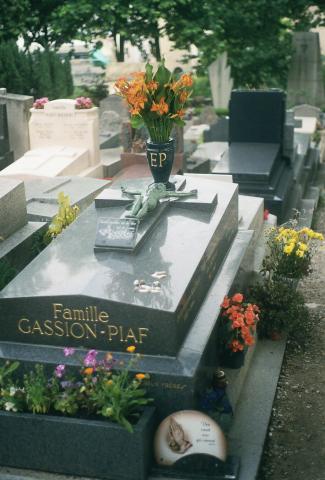 Edith Piaf and her three husbands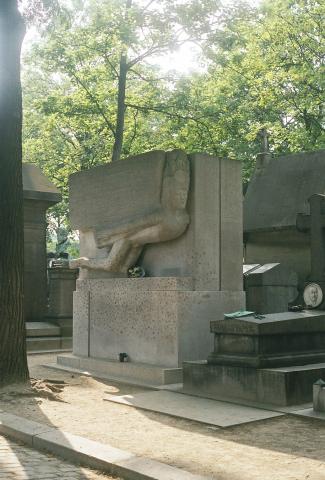 Oscar Wilde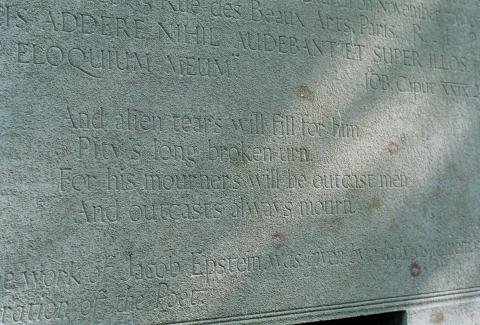 A poem for Oscar Wilde